D'Olivo Blueberry Balsamic Condimento
205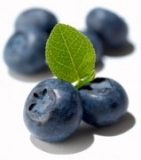 Our luscious blueberry balsamic vinegar is just as amazing over garden salad as it is over fruit salad. When paired with delicate extra virgin oil such as Arbequina, the intense blueberry flavor will shine. Also fantastic with our orange or lemon olive oils. Pairs well with blue and feta cheeses. Our naturally flavored balsamic condimento is aged in the traditional Solera Method and PGI certified to come from Modena, Italy.
Olive Oil needs to be used within 14 months of the crush date unless it is a free style, then it can be up to 24 months. EVOO is a fruit juice and needs to be treated as such. Balsamic gets better with age, just like wine but needs to be kept out of the heat and sun light.
Ingredients:

Grape must, wine vinegar, caramel color, natural flavors, naturally occurring sulfites
Serving Size: 1 Tbsp (15mL)
Vitamin A

0%

Vitamin C

0%
* Percent Daily Value are based on a 2000 calorie diet
60 ml bottle:$7.95
200 ml bottle:$13.95
375 ml bottle:$19.95
750 ml bottle:$36.95
What's New In Walla Walla
Huge selection of Sparkles! Champagne from France, Sparkling Wine from USA, Cava from Spain, and Prosseco from Italy. Selections in the cooler as well. Come check it out today.