D'Olivo Dark Chocolate Balsamic Vinegar Condimento
211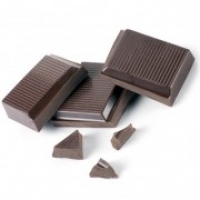 This dark chocolate Balsamic Vinegar is rich, thick and resounds with the complexity of three different chocolates responsible for the depth of its flavor. Drizzle over vanilla gelato, mix with fresh berries or add zing to your chicken mole sauce. Our naturally flavored balsamic condimento is aged in the traditional Solera Method comes from Modena, Italy.
Olive Oil needs to be used within 14 months of the crush date unless it is a free style, then it can be up to 24 months. EVOO is a fruit juice and needs to be treated as such. Balsamic gets better with age, just like wine but needs to be kept out of the heat and sun light.
Nutritional Facts
Serving Size: 1 Tbsp (15mL)
Servings/container: 25
Amount Per Serving
Calories 10

Fat Cal

0
%
Daily Value*
Total Fat
0g

0%
Saturated Fat

0 g

0%
Trans Fat 0 g
Sodium
0mg

0%
Total Carbs
3 g

1%
Dietary Fiber 0g

0%
Sugars 3 g
Protein
0g

0%
Vitamin A

0%

Vitamin C

0%

Calcium

0%

Iron

2%
* Percent Daily Value are based on a 2000 calorie diet
Dark Balsamics (flavored)
Ingredients:
Grape must, wine vinegar, natural flavors, naturally occurring sulfites
60 ml bottle:$7.95
200 ml bottle:$13.95
375 ml bottle:$19.95
750 ml bottle:$36.95
What's New In Walla Walla
Huge selection of Sparkles! Champagne from France, Sparkling Wine from USA, Cava from Spain, and Prosseco from Italy. Selections in the cooler as well. Come check it out today.