D'Olivo Organic Butter Olive Oil
120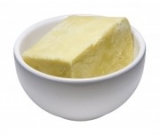 This creamy extra virgin olive oil is naturally infused with the rich flavor of butter. Use this golden, vegetarian, dairy free olive oil as a butter substitute in baking or anywhere you might use melted butter including: over hot popcorn, with seafood i.e. crab or shrimp, to dip bread in, over pasta, mashed potatoes, rice, or in baking. Made from premium, ultra fresh, extra virgin olive oil from our collection blended in small, artisan batches with 100% natural flavor.
Olive Oil needs to be used within 14 months of the crush date unless it is a free style, then it can be up to 24 months. EVOO is a fruit juice and needs to be treated as such. Balsamic gets better with age, just like wine but needs to be kept out of the heat and sun light.

60 ml bottle:$7.95
200 ml bottle:$13.95
375 ml bottle:$19.95
750 ml bottle:$36.95
What's New In Walla Walla
Huge selection of Sparkles! Champagne from France, Sparkling Wine from USA, Cava from Spain, and Prosseco from Italy. Selections in the cooler as well. Come check it out today.