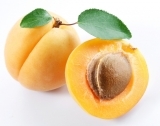 D'Olivo Apricot White Balsamic Condiemento
SKU 202
Product Details
The Blenheim variety is both sweet and tart with an intensely aromatic aroma of honeysuckle and picked with a faint green tinge. We've married this with our aged white balsamic condimento. The resulting collaboration is intoxicating as it is crisp and tart.
Notes: Great with grilled chicken, as a glaze or served with cheese.
*Pairs fantastically with Roasted Almond Oil or Portuguese Picual EVOO!*
Olive Oil needs to be used within 14 months of the crush date unless it is a free style, then it can be up to 24 months. EVOO is a fruit juice and needs to be treated as such. Balsamic gets better with age, just like wine but needs to be kept out of the heat and sun light.
Nutritional Facts
Serving Size: 1 Tbsp (15mL)
Servings/container: 25
Amount Per Serving
Calories 10

Fat Cal

0
%
Daily Value*
Total Fat
0g

0%
Saturated Fat

0 g

0%
Trans Fat 0 g
Sodium
0mg

0%
Total Carbs
3 g

1%
Dietary Fiber 0g

0%
Sugars 3 g
Protein
0g

0%
Vitamin A

0%

Vitamin C

0%

Calcium

0%

Iron

2%
* Percent Daily Value are based on a 2000 calorie diet
Flavored Balsamics (White)
Ingredients:
Grape must, white wine vinegar, natural flavors, naturally occurring sulfites
Save this product for later