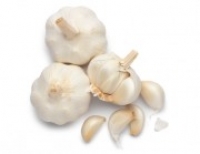 D'Olivo California Garlic Olive Oil
SKU IO8
Product Details
Our Garlic Olive Oil (made with California Extra Virgin Olive Oil) actually gives off the flavor of pungent, fresh garlic. Since garlic and olive oil are almost always used together in Mediterranean cooking, you can use this in just about anything.
Notes: Great to mix in with Pasta or mashed potatoes, to drizzle on steaks before grilling or to just dip bread.
Olive Oil needs to be used within 14 months of the crush date unless it is a free style, then it can be up to 24 months. EVOO is a fruit juice and needs to be treated as such. Balsamic gets better with age, just like wine but needs to be kept out of the heat and sun light.
Serving Size: 1 Tbsp (15mL)
Not a significant source of cholesterol, dietary fiber, sugars, vitamin A, vitamin C, calcium and iron
* Percent Daily Value are based on a 2000 calorie diet
Ingredients:

Organic Extra Virgin Olive Oil, Essential Oil of Garlic
Save this product for later