Quickles (Sweet Style)
00002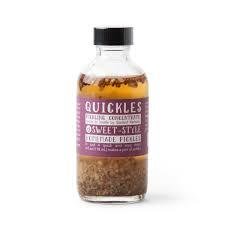 Pickling concentrate.
Sweet-style pickles, aka Bread n' Butter pickles. I'm tempted to leave it at that, but then I wouldn't get to ramble on about how much I love using this concentrate with cucumbers and using the finished pickles on a PB and Pickles sandwich. Yes, I stand by that. Peanut Butter and Pickles between two pieces of fine bread is delicious. It took a leap of faith for me too, but you will be better off once you've tried it. Please, give it a shot.
What's New In Walla Walla
Huge selection of Sparkles! Champagne from France, Sparkling Wine from USA, Cava from Spain, and Prosseco from Italy. Selections in the cooler as well. Come check it out today.