Where Healthy Ingredients and Delicious Meals Come Together


Take the holistic approach to your health while adding a touch of culinary innovation with our premium extra virgin olive oils and balsamic vinegars.D'Olivo is certified kosher, organic, gluten-free, and Non-GMO project verified.

D'Olivo Peach White Balsamic Vinegar Condimento
222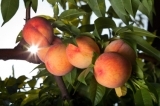 Made with White Trebbiano Grape Must, our White Peach Balsamic does undergoes the cooking and barrel aging process of Balsamic Vinegar of Modena but is not caramelized therefore it retains its white color. The result is a crisp vinegar with a touch of sweetness reminiscent of handcrafted vinegars from northern Italy. Extremely adaptable, it can be paired with any of our Extra Virgin Olive Oils, as well as our flavored oils to make a light, tart vinaigrette.
Olive Oil needs to be used within 14 months of the crush date unless it is a free style, then it can be up to 24 months. EVOO is a fruit juice and needs to be treated as such. Balsamic gets better with age, just like wine but needs to be kept out of the heat and sun light.
Nutritional Facts
Serving Size: 1 Tbsp (15mL)
Servings/container: 25
Amount Per Serving
Calories 10 Fat Cal 0
% Daily Value*
Total Fat 0g 0%
Saturated Fat 0 g 0%
Trans Fat 0 g
Sodium 0mg 0%
Total Carbs 3 g 1%
Dietary Fiber 0g 0%
Sugars 3 g
Protein 0g 0%
Vitamin A 0% Vitamin C 0%
Calcium 0% Iron 2%
* Percent Daily Value are based on a 2000 calorie diet
Flavored Balsamics (White)
Ingredients:
Grape must, white wine vinegar, natural flavors, naturally occurring sulfites
60 ml bottle:$7.95
200 ml bottle:$12.95
375 ml bottle:$18.95
What's New In Walla Walla
Huge selection of Sparkles! Champagne from France, Sparkling Wine from USA, Cava from Spain, and Prosseco from Italy. Selections in the cooler as well. Come check it out today.