Where Healthy Ingredients and Delicious Meals Come Together


Take the holistic approach to your health while adding a touch of culinary innovation with our premium extra virgin olive oils and balsamic vinegars.D'Olivo is certified kosher, organic, gluten-free, and Non-GMO project verified.

Roasted Peppers with Extra Virgin Olive Oil
Peppers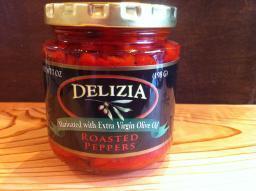 Sweet, fresh, perfectly ripe and deeply red sweet peppers, grown under the California sun by a family farm are flame roasted, cut into strips, and marinated with UP Certified Extra Virgin Olive Oil, whole roasted California garlic, and a touch of sea salt. These peppers are a perfect stand-in for fresh peppers in recipes that call for them.


Great in salads, on sandwiches - puree into a spread, or dip. Use in soups, sauces, and appetizers. Puree with a bit of fresh goat cheese for a mind-blowing roasted red pepper and goat cheese spread.


7 oz jar
What's New In Walla Walla
Huge selection of Sparkles! Champagne from France, Sparkling Wine from USA, Cava from Spain, and Prosseco from Italy. Selections in the cooler as well. Come check it out today.