Where Healthy Ingredients and Delicious Meals Come Together


Take the holistic approach to your health while adding a touch of culinary innovation with our premium extra virgin olive oils and balsamic vinegars.D'Olivo is certified kosher, organic, gluten-free, and Non-GMO project verified.

Stony Brook Roasted Pumpkin Seed Oil
SBRPSO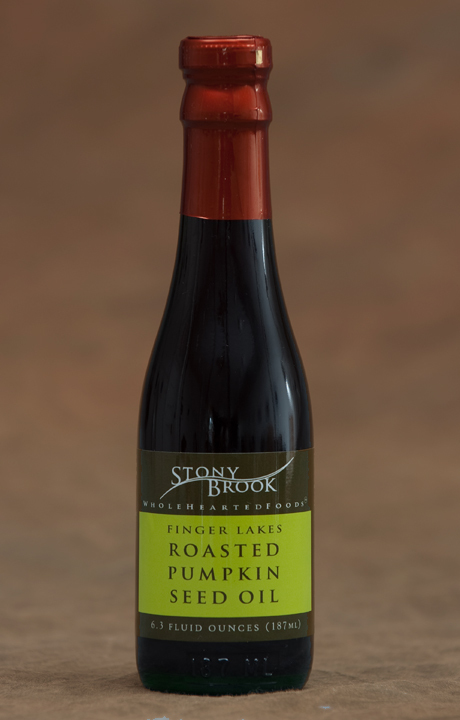 The homegrown American version of Austrian pumpkin seed oil, our roasted Pumpkin Seed Oil (RPSO) is 100% varietal oil made from oilseed pumpkins grown in New York. The oil has a deep emerald green color and flavors of toasted sesame and umami (a smoky, savory flavor like roasted mushrooms). It has a more complex profile than its Austrian cousin, Styrian pumpkin seed oil.
The oil makes a wonderful complement to grilled vegetables, roasted fish, or sauted leafy greens. Try on fresh pasta or squash soup for a rich, distinctive alternative to olive oil.
RPSO is all-natural, expeller-pressed unrefined oil for finishing and flavoring your favorite dishes. It is 100% pure varietal oil made with non-GMO pumpkin seeds grown on a family farm in central New York. Pumpkin seeds are roasted, pressed and bottled at our production kitchen in Geneva, New York.
Ingredient: 100% pure pumpkin seed oil. Flavor profile: savory, sesame, roasted mushrooms, pistachio Uses: drizzling over vegetables, salads, soups. Smoke point is only 250 degree F, so avoid high heat. Shelf life: one year Nutrition: oil is high in mono- and polyunsaturated fats, low in saturated fat. No trans fat or cholesterol. Source of zinc and beneficial carotenoids lutein and zeaxanthin.
Brand:
Stony Brook Seed Oil
What's New In Walla Walla
Huge selection of Sparkles! Champagne from France, Sparkling Wine from USA, Cava from Spain, and Prosseco from Italy. Selections in the cooler as well. Come check it out today.